The newly published data shows that whale inflows into top cryptocurrency exchanges are now decreasing since mid-September.
Whale Inflows Starts Declining
Blockchain analytics firm CryptoQuant finds out that whales have stopped sending crypto capital from their wallets to crypto exchanges, and the trend has begun to rise since September 16. It shows that people, who have a large amount of Bitcoin, want HODL it rather than selling over trading platforms. CryptoQuant CEO Ki-Young Ju said:
"Fortunately, whale inflows seem to be decreasing. It seems the $BTC price follows the traditional market lately. I think the only thing we can do with on-chain data at this moment is to watch whale moving. Most of the fundamental on-chain indicators are healthy."
On September 17, Ju stated," Exchange Whale Ratio hits the year low—the fewer whales moving to exchanges, the less dumping, and makes the higher #BTC price."
Whales' Role in Crypto Space
In the crypto space, Bitcoin whales have a significant influence over markets and are responsible for bullish and bearish trends. Decreasing deposits in cryptocurrency exchanges are correlated with decreasing selling pressure.
A decline in whale inflows could result in Bitcoin recovery soon. And whales can drive the price value above $11,000 if this trend continues.
A crypto data tracker WhaleMap shares a graph showing unspent Bitcoin in particular time frames. "Bubbles show locations where unspent bitcoins were accumulated. The larger the bubble, the more unspent bitcoins are located there. P.s. Unspent means these bitcoins have not been moved since they were 'inflowed' to a whale wallet," It said.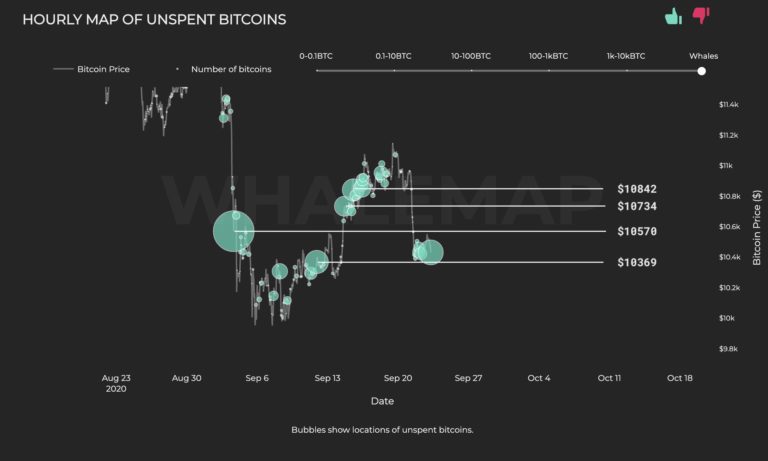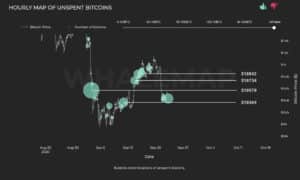 Currently, Bitcoin is trading at $10,391. Some analysts believe that it should be traded at some above level. Bloomberg analyst Mike McGlone recently said:
"The Bitcoin hash rate continues to increase and recently reached new highs. Also advancing are addresses used. A top metric for adoption, the 30-day average of Bitcoin addresses is equivalent to the price closer to $15,000 when measured on an autoscale basis since 2017."